In today's digital age, the journey to buying real estate in Australia, more often than not, begins online. Buyers depend on the major real estate listing sites such as RealEstate.com.au and Domain to find and compare properties. It is also vital that the real estate agents selling properties maintain a professional, high quality and up to date website.
Real estate agents need an online tool for managing their online presence, simplifying the process of posting and managing properties across various portals, including their own websites, to reach potential buyers effectively. This is where a real estate CMS is crucial.
What is a real estate CMS?
A real estate content management system (CMS), is a type of software platform specifically designed for real estate professionals, agents, offices, and franchises to manage their property listings and websites. Similar to a regular website CMS they includes features specific to selling and marketing properties including image galleries, location, viewing times, auction date, price guides, property size, number of bedrooms and more.
This has led to a number of companies specialising in building content management systems for the real estate industry in Australia. In this guide, we highlight the key players and compare pros, cons and features of each.
Essential features for a real estate CMS
The main features you will need when evaluating a real estate CMS include:
Listings Management
Does the CMS provide a comprehensive set of tools to manage property listings, update existing ones, and remove sold or expired listings. Typical property features such as location, price, property type, number of beds, baths, car spaces and photos are considered standard. An advanced CMS might allow for the scheduling of inspections and auction dates.
Website Publishing and Hosting
The CMS should provide off the shelf templates and customization options for relevant to real estate businesses to design their website without needing extensive technical expertise. These designs should be responsive, ensuring that the website is optimized for viewing on all devices, which is crucial for the highly mobile nature of real estate browsing. Search engine optimisation (SEO) is another important factor to consider if you want your site to rank on search engines. And if the website can generate a property listing portal with search functionality then this is a bonus.
Uploading to Property Portals
Another key feature is the ability to syndicate or distribute property listings to multiple real estate listings websites and platforms. In Australia you would typically want to integrate with the big sites like Realestate.com.au and Domain, but some CMS's integrate with many more. Properties entered in to the CMS are usually uploaded in bulk using a feed or in some cases they can be uploaded one at a time.
Social Media Content
Recognizing the importance of social media in real estate marketing, some CMS's include features to create, manage, and share content directly on social media platforms. This can increase engagement and reach by allowing the easy sharing of listings, news, and updates from the website to the agency's social media channels.
Many of the platforms we researched included some or all of these features as part of an even broader platform, typically real estate CRM's or suites. Others only provided one or two features and excluded the others but we have included them too.
Australia's top real estate CMS companies
So with these features in mind here are the top real estate CMS's we researched in no particular order.
Mantis Property
Mantis Property is a fully featured real estate CRM for agents and brokers. While it offers a suite of features for sales and customer management it also includes content management features for managing property listings and bulk uploading.
While the platform does not offer any kind of website publishing service it does make life easier for web developers thanks to a Wordpress and Wix plugin, iFrame based property search and an XML based API.
The platform has bulk uploader which keeps listings in sync with all the major real estate listings sites and portals in Australia, New Zealand and Asia, with over 60 integrations including Realestate.com.au and Domain.
| Feature | Available |
| --- | --- |
| Listings Management | YES |
| Website Publishing | NO |
| Bulk Uploader | YES |
| Social Media Content | NO |
Visit: mantisproperty.com.au
Agentpoint
Agentpoint provide digital solutions to the real estate industry in the form of off the shelf services and large scale bespoke projects. They offer real estate listings management linked to their CRM, template based real estate website publishing for with built in CMS, SEO and responsive design.
Agentpoint provides an extensive bulk upload service integrating with over 100 portals and real estate websites, the most of any of the CMS's we investigated. Integrations include Realestate.com.au and Domain.
| Feature | Available |
| --- | --- |
| Listings Management | YES |
| Website Publishing | YES |
| Bulk Uploader | YES |
| Social Media Content | NO |
Visit: agentpoint.com.au
Zenu
The Zenu homepage boasts the impressive claim that they have helped over 6000 leading real estate agents in Australia sell almost $8bn worth of real estate.
Zenu split their offering in to two main components, CRM and websites. The websites services promises code free web site management using their website builder and a collection of standard and premium templates. The CMS lets you manage property listings, offices, projects, a blog and more, and is optimised for search engines and lead generation.
The Zenu home page lists integrations including all the big Australian players and says it uploads to all major portals. They also mention social media and email marketing but the website itself is a bit slim on the details. You can book a demo via the website to find out more.
| Feature | Available |
| --- | --- |
| Listings Management | YES |
| Website Publishing | YES |
| Bulk Uploader | YES |
| Social Media Content | YES |
Visit: zenu.com.au
Aro Software
Aro Softwares website shows they have worked with over 4000 agents over the last 16 years, making them a well established player in the real estate technology space. They focus on a CRM product that includes a property listings CMS and fixed price template based websites as well as custom websites. They claim to have 700 agency customers and have created over 3000 websites, a selection of which you can view in their portfolio.
The CRM property listing are integrated in to the websites as well as being uploaded to Domain and Realestate.com.au, along with a long list of other providers. They also build a lot of custom websites with a large range of recent projects on display in their portfolio.
Aro, have also recently launched a new Social Ads feature which separates them from most of the competition.
| Feature | Available |
| --- | --- |
| Listings Management | YES |
| Website Publishing | YES |
| Bulk Uploader | YES |
| Social Media Content | YES |
Visit: arosoftware.com
RealtyCMS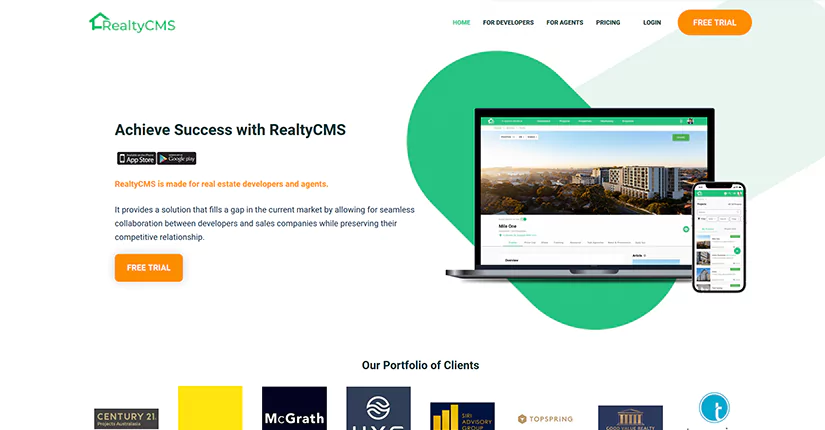 RealtyCMS is aimed at the developer/agent relationship. Unlike most of the other CMS's we researched, RealtyCMS provides an interface for property developers to manage listings for their projects. It looks like more of a business to business platform than a service for consumer real estate. We're including it because you'll likely come across them in your search for a real estate CMS and they might be what you are looking for if you are a property developer managing many projects.
| Feature | Available |
| --- | --- |
| Listings Management | YES |
| Website Publishing | NO |
| Bulk Uploader | NO |
| Social Media Content | NO |
Visit: realtycms.com.au
Subtle Difference
Subtle Difference are a web development agency on the Queensland Sunshine Coast, but it seems they have varved them selves a niche in the real estate sector creating real estate websites.
Their RealOnline CMS can be configured to include a listings manager for adding properties as well as site wide content management. The websites are well structured for search engines and lead capture forms can be linked with a built in CRM.
A key difference with with Subtle Difference is that they don't offer a self serve off the shelf CMS but more of a project by project bespoke website design service requiring a scope and estimate.
| Feature | Available |
| --- | --- |
| Listings Management | YES |
| Website Publishing | YES |
| Bulk Uploader | YES |
| Social Media Content | NO |
Visit: subtledifference.com.au
ReNet
ReNet provides software for real estate agents and offices as well as website design. The main software product is called Touchpoint Manager and it allows properties to be added and managed. There is syncing to over 100 portals as soon as property details are added or updated.
The companies website claims they have an in-house web design team who have built over 1000 websites. It does say that the websites include property listings which will be fed from the CRM but it is unclear if the service is self serve or you need to go via their design team. There are off the shelf themes for agents and offices.
The software can also be used to generate printed listings, PDF files and mentions promoting listings on social media.
| Feature | Available |
| --- | --- |
| Listings Management | YES |
| Website Publishing | YES |
| Bulk Uploader | YES |
| Social Media Content | YES |
Visit: renet.com.au
iProperty
Like other real estate agency software providers iProperty divides their services in to a CRM and a website service. Each of these has dedicated web sites, iDashboard CRM and iDashsites website design service.
The iDashboard software has features you would expect for managing your listings and includes bulk uploading to around 80 portals.
The website service appears to be more service based than self serve. The design and set up process can take up to 1 week but the website does also talk about using a web page builder and specifically mention WordPress.
So, my guess would it is a WordPress site with some proprietary plugins to pull in listings and other real estate features plus they will take care of the hosting and updates.
| Feature | Available |
| --- | --- |
| Listings Management | YES |
| Website Publishing | YES |
| Bulk Uploader | YES |
| Social Media Content | NO |
Visit: iproperty.com.au
Inhabit
Inhabit appear to have a comprehensive suite of real estate software products including a residential property CRM, commercial CRM, trust accounting, proposals and web sites.
From this suite all bases appear to be covered except for social media tools. Move, the residential real estate CRM lets you manage listings and syncs these with web site feeds and portals. There is no mention of which portals however.
Jaguar, is the website service. They claim they can have the website up and running in a few hours, so this comes close to self-serve. The CMS lets you create new pages and modify the navigation. It also appears to integrate with other CRM's and bulk upload listings so you are not tied in to using the Move CRM.
| Feature | Available |
| --- | --- |
| Listings Management | YES |
| Website Publishing | YES |
| Bulk Uploader | YES |
| Social Media Content | NO |
Visit: inhabit.com.au