The largest music streaming provider in the world makes it easy for anyone to find the right music or podcast for every moment.
The challenge
In late 2020, the Partners and Platforms Experiences team set out to create a more integrated Instagram sharing experience. Traditionally this meant a photo of the artist was shared, or a short video from their Canvas library. The team wanted to create videos optimized for Instagram with the company logo and a border frame overlayed to make the user interface clearer and increase click through rates.
The challenge the team was faced with was that they needed to create a workflow that was able to be deployed in a short amount of time, and access video editing functionality at enormous scale.
Reducing time to market from months to weeks
By using Shotstack's existing media generation infrastructure and its intuitive JSON specification the team was able to build a workflow application in a matter of weeks. A project that would have otherwise taken months to complete using in-house resources.
Hector Zarate, the engineering manager responsible for this project noted "it would have taken a lot of research on what technologies we needed to leverage technically for us to achieve the desired outcome. This would have taken at least two months of engineering time for a simple use case, and up to 6 months if the scope widened."
Shotstack's infrastructure stack is built on good quality architecture, and we were quickly convinced this solution would be able to achieve exactly what we set out to achieve. The ability to configure a JSON and integrate the API into our own development environment was very convenient. It allowed us to access the capabilities we needed without needing to spend time and effort developing these complex functionalities ourselves.
Ability to render thirty thousand videos daily
The company utilized Shotstack's powerful infrastructure to build a workflow solution capable of manipulating tens of thousands of videos on a daily basis. With Shotstack's highly scalable infrastructure being able to render dozens of videos concurrently the team was able to comfortably achieve their performance KPIs on render times and throughput requirements.
When working with external providers there is always an inherent risk whether they can scale to our requirements. Our users love Canvas videos, and these get shared millions of times every day. Shotstack had no problem scaling with this type of use, even after increasing throughput inadvertently by 10x.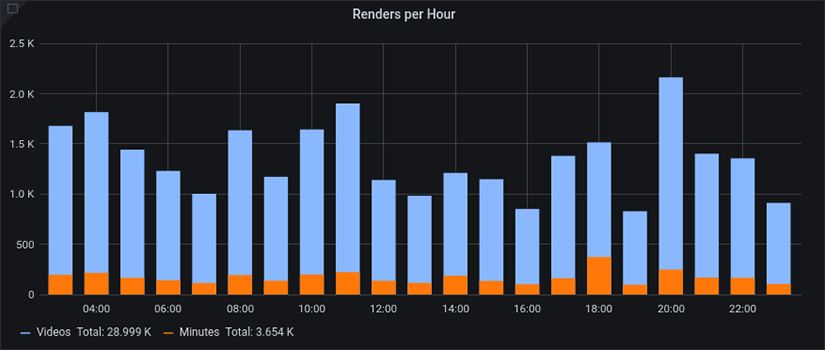 Customer renders over 24 hour period. ~30k videos and ~3.6k minutes rendered.
An example social sharing video generated by Shotstack.
Future focus
Looking ahead, the company plans to continue utilizing Shotstack's infrastructure to enhance customers' experiences on its platform.
We now know we have the capability to work with video at this scale. It will be a lot easier to leverage these capabilities, and we look forward to experimenting with video a lot more in the future.